If you use the Duo Mobile App to complete your CalNet 2-Step, you will start to see changes to the Duo Mobile user interface (UI) in October.
What to expect from this new version (v 4.0.0.). 
For iOS changes will occur October 11 through 18, 2021.

For Android changes will occur October 11 through 15, 2021.
What's changing?
Duo is introducing a redesigned version of its Duo Mobile App, the new version will:
Improve the accessibility of the app, including adding a landscape view, variable font sizes, and improved color contrast.

Provide clear guidance on restoring your accounts if you get a new phone

Switch the position of the Approve / Deny buttons so that "Approve" is on the right side of the screen. See below: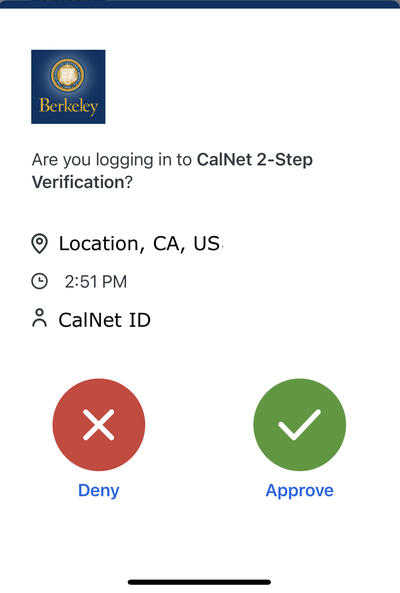 What's not changing?
The core functionality of Duo Mobile remains the same -- you will still be able to:
Receive a Duo Push

Use passcodes

Add, edit, reorder, and remove accounts

Backup and restore accounts

Use dark mode

And anything else you can do in the current version of the app
Action required?
If you have not enabled automatic app updates on the device you use with Duo Mobile, you will need to update the app manually once the update is available.
Will I need to restore my accounts or settings?
No. All of your protected accounts will be automatically present in Duo Mobile after the update. You do not need to re-add anything.
How do I start using Duo Mobile?
If you aren't already using Duo Push, we highly recommend you do! It's faster, easier, and more secure than using SMS. Check out our Enroll a Smartphone instructions page.
Questions?
Contact calnet2-stephelp@berkeley.edu.